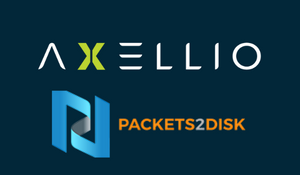 Axellio & Packets2Disk Create Trading & Market Data Analysis Solution
Stefan Pracht, SVP Product Marketing
Axellio Partners with Packets2Disk to Create High Speed Trading and Market Data Analysis Solution for Global Stock Exchange Ensures Regulatory Compliance, Real-Time/Historical Trading, and Market Data Analytics with High-Performance 100 Gbps Traffic Collection

Colorado Springs, CO, September 20, 2021 - Axellio®, a US-based system developer and integrator, today
announced it has partnered with Packets2Disk® to create a 100 Gbps trading and market data analysis
solution for a global stock exchange based in the United States. The system ensures that the exchange
meets government mandates to give every market feed subscriber equal and fair access to current
market information about stock prices and trades that have occurred, through real-time monitoring and
effective data retention and reporting.
The solution is capable of decoding and correlating 10 million transactions per second, storing both
packet and analysis data for detailed historical and real-time analysis and reporting, capturing traffic at
100 Gbps with no data loss. The solution makes an entire trading day's traffic available at high speed
from disk, which allows streaming the timestamped traffic directly from the disk to the exchange's
existing analysis infrastructure which protects it from data loss due to traffic spikes.
"Exchanges, brokers, and infrastructure providers are having to confront huge increases in trade
volumes and regulatory requirements, making it difficult for their infrastructure to keep up," said Bill
Miller, CEO, Axellio. "For analysis, issue resolution, and compliance, current market monitoring
infrastructure struggles to decode and correlate today's rates of millions of transactions every second.
Fortunately, our experience in working with government agencies in doing full packet capture at
unprecedented high speeds prepared us well for this challenge, and we are proud to be a part of this
effort for the financial services sector."
The solution combines Axellio's PacketXpress® high-density, high-performance storage and analysis
platform with Packets2Disk's powerful analysis software for decoding, storing, and analyzing financial
trading and market data. The solution provides highly accurate results for critical insights for operators
of the exchange through a number of ways:
Identifies and reduces risk of service and trading data quality issues and outages
Reduces mean-time-to-repair (MTTR) and reduces downtimes
Optimizes latency across the entire infrastructure
Ensures the quality and accuracy of data feeds for detailed analytics and performance
improvements
Confirms compliance and reduces regulatory risks with accurate data for every transaction
Ensures SLA compliance for the exchange's services and those of their service providers
Validates trading systems changes by testing them with known, real-live data before going into
production
About Axellio
Axellio is an innovator on increasing network visibility for any industry with a focus on trading analysis
and cyber security threat detection and response based on their high-performance PacketXpress
platform for real-time and historical network traffic analysis. Addressing network and security
operations of defense, intelligence, and commercial enterprise markets, Axellio delivers solutions that
combine common, off-the-shelf hardware with open source and commercial software to deliver the
most comprehensive and economical security solutions. Axellio also provides assessment, engineering,
and integration services as well as operational support services such as deployment, configuration, and
education services. Learn more about Axellio at www.Axellio.com
About Packets2Disk
From its inception in 2006, Packets2DIsk has continued to grow steadily and now has a global presence,
with customers throughout the world, including the leading players in all major financial markets. Much
of our success is due to the fact that we continue to focus on the core competencies that make us
special: the decoding, storage and analysis of trading data. We develop all our technology and products
in-house and work closely with our network of partners, together delivering a comprehensive package
that provides you with the best-in-class technology for each element of your required solution.
Contact:
Neal Stein
Technology PR Solutions
Phone: (321) 473-7407
nealjstein@techprsolutions.com