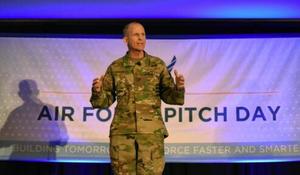 Axellio Receives Federal Contract in Minutes at USAF Inaugural Pitch Day
Axellio
Axellio approved for the first phase to design a mobile edge-computing platform
COLORADO SPRINGS, Colo. – March 12, 2018 — Axellio Inc. today announced it secured a research and development contract from the United States Air Force to develop FX-Blox™, a portable edge computing platform designed to fit in a carry-on suitcase while providing the capability of a high-performance enterprise data center. Axellio was of one of 51 small businesses awarded a contract during the inaugural USAF Pitch Days held last week in New York.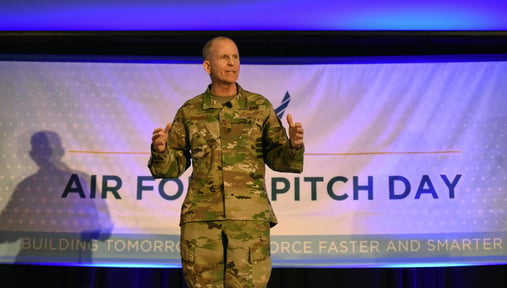 Air Force Vice Chief of Staff Gen. Stephen W. Wilson speaks to a crowd of small businesses, venture capitalists and Airmen during the inaugural Air Force Pitch Day in New York, March 7, 2019. Air Force Pitch Day is designed as a fast-track program to put companies on one-page contracts and same-day awards with the swipe of a government credit card. The Air Force is partnering with small businesses to help further national security in air, space and cyberspace. (U.S. Air Force photo by Tech Sgt. Anthony Nelson Jr.)
The Pitch Days program provides a fast track for innovative companies to work with the Air Force. Out of more than 400 applications from throughout the country, 59 were invited to New York to compete for up to $158,000 in instantaneous Phase 1 Small Business Innovative Research (SBIR) funding. The traditional SBIR process can take months just to make the decision then several more months to finalize the contract.
Modeled after commercial investment pitch competitions, the program awarded 51 contracts with a total initial value of $8.75 million in a matter of minutes using simplified one-page contracts. Air Force officials hope that these types of programs can dramatically accelerate cutting-edge technologies to the warfighters.
FX-Blox is based on Axellio's FabricXpress™ product, which leverages a novel bus-switching invention that creates a "super highway" to converged processing, memory, and storage components. It is the world's fastest and largest capacity edge computing system, enabling real-time advanced analytics on massive volumes of high velocity data.
"Axellio is proud to be part of the small group of companies selected during the Air Force Pitch Days," said Axellio CEO Bill Miller. "We are aggressively moving ahead with this new design of our FabricXpress platform to allow our military forces to easily transport and set up a high-density, high-performance data center anywhere in the world on a moment's notice."
About Axellio Inc.
Axellio Inc. is the emerging leader in Edge Computing solutions and platforms. We provide performance that redefines what is possible and breaks the mold of traditional scale-up and out architecture with a scale-in philosophy. Our solutions take IT teams, solution providers and OEMs in cybersecurity, financial markets, defense and intelligence, healthcare, telecom and industrial markets to the edge of computing and beyond. Re-imagine what is possible in your cloud, datacenter and HCI environment – Axellio turns it into reality. To learn more, visit axellio.com.